Basic Overnight Oats are the perfect healthy breakfast that can be easily made ahead of time, and they are so delicious; it's almost like you are eating a creamy, sweet dessert for breakfast.
Learn how to make the basic overnight oats then you can add whatever toppings you prefer; this overnight oatmeal has limitless flavour options and toppings.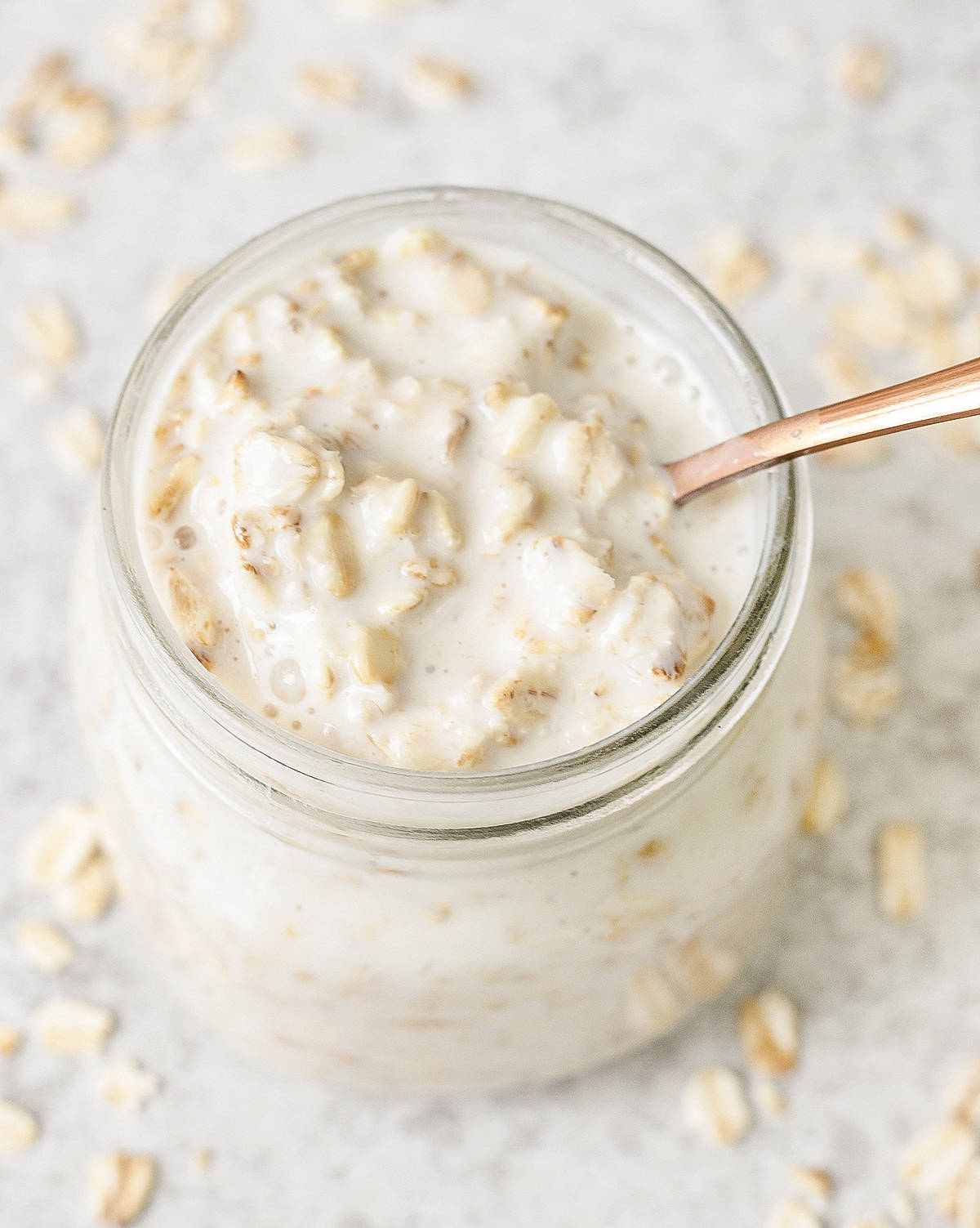 Breakfast is an important meal even if you always start your day in a hurry. These basic overnight oats are your best choice for having a healthy breakfast because they will be ready for you in the morning. So, make it easy for yourself and start your day with these delicious overnight oats.
This Basic Oats recipe is made with whole grains, full of protein and fibre, easy to prepare for 2-3 days ahead of time, good for meal prep, and it is so healthy. This recipe is also totally customizable; you can make it vegan, gluten-free, dairy-free, or even sugar-free.
What are Basic Overnight Oats?
Overnight Oats are when you soak the oats all night in milk instead of cooking them; they absorb quite a lot of the liquid and become soft and chewy. Until this stage, you have made basic overnight oats. To give these overnight oats some flavour, add any toppings you like. I usually add a little honey or maple syrup along with some chopped up fruits (anything I have).
What's in these Basic Overnight Oats?
Rolled oats: In this recipe, we will use old fashioned rolled oats.
Vanilla extract: It gives a lovely flavour to the oats.
Whole milk: But you can use almond milk, coconut milk, or oat milk instead.
Greek yoghurt: (I prefer to use plain Greek yoghurt; however, you can use any flavour you like).
Honey: I like to use honey or maple syrup to give a bit sweetness to the oats.
Pinch of Salt: I like to add a pinch of salt to balance the sweet flavour.
How to make Basic Overnight Oats?
Combine all the ingredients in a medium-size glass jar or container. Mix well, then cover and put in the fridge for overnight. For breakfast, stir well then add your toppings and enjoy.
Top Tips:
These oats will get softer the longer they remain.
Adding a tablespoon of chia seeds helps to thicken your oats and make them creamier. (They also have lots of health benefits.)
You can add the toppings or adds-in to the oats to soak overnight, or you can add them fresh before serving. For me, I like adding them before serving.
If you choose to make this recipe with Quick-cooking oats, I suggest reducing the amount of milk by a quarter cup.
The liquid amount is very important for the oat's consistency; this recipe will give you a thick, creamy, and slightly chewy oats. If you like it to be a little liquidy, you can add more milk (about a quarter cup more).
You can use plain yoghurt instead of Greek yoghurt and if you are not a fan of yoghurt at all substitute it with ¼ cup milk and 1.5 tablespoons of chia seeds to thicken your oats.
Recipe FAQs
What are the different oat types?
There are three types of oats which are slightly different in texture.
Quick-cooking oats: They cook much faster than rolled oats, but it ends up with a texture more like a porridge.
Rolled oats: Absorb water or milk quickly and have a thick and creamy texture. They are the best option for this recipe.
Steel-cut oats: This type of oatmeal is higher in fibre than the other two types. Sometimes they called Irish oatmeal. It is made of the whole grain oats from the oat plant. And it usually needs much more liquid to be ready for eating. The final result of using it in making overnight oats will be a bit chewier than using rolled oats.
What are the topping and adds-in options?
Feel free to mix in and top your Basic Overnight Oats with any topping you fancy. Below are some suggestions:
Fresh fruits: Top your overnight oats with some chopped strawberries, blueberries, bananas, or any fresh fruits you like.
Instant coffee powder: Add in a teaspoon of instant coffee powder such as Espresso to get a caffeine boost in your oatmeal breakfast.
Whey protein powder: Add in more protein to your oatmeal breakfast by adding half scoop of pure whey protein powder.
Flavour extracts: Add more flavours to your oats by adding ⅛ teaspoon of any extract you like such as lemon, peppermint, almond, or orange.
Chia seeds: Not only are chia seeds a good source of fibre, omega-3, and high-quality protein but they also it help to thicken your oats. Add one tablespoon of chia seeds.
Spices: To have lovely fall flavours, add ½ teaspoon of cinnamon and ⅛ teaspoon of nutmeg to your Basic Overnight Oats.
Nut butter: Add a tablespoon of smooth peanut butter or almond butter.
Chocolate: If you want your oats to be chocolaty, add to it one tablespoon of unsweetened cocoa powder.
Lemon and poppyseeds: Add to your basic overnight oats a lovely tangy flavour and more crunchiness by adding one tablespoon lemon juice, one teaspoon lemon zest, and two tablespoons poppy seeds.

Nuts: Add to your oats some chopped nuts such as pecan, walnuts, or toasted almond.
Coconut: If you love coconut flavour, you can replace whole milk with coconut milk and add a tablespoon of shredded coconut to your basic overnight oats.
Other topping options: Chocolate chips, raisins, and cranberries.
Can I make my Basic Overnight Oats non-dairy?
Yes, you can use almond milk or coconut milk instead of whole milk.
How to store overnight oats?
To store your basic overnight oats, just put them in a glass jar or container, seal, then place in the fridge. They will stay fresh in the fridge for about 2-3 days.
Can I make my Basic Overnight Oats sugar free?
Of course, you can. Although only use one tablespoon of honey or maple syrup in this recipe, you can substitute it with any sweetener you prefer such as Erythritol or Swerve.
Can I use Quick-cooking oats instead of rolled oats in making this recipe?
Yes, you can. Quick-cooking oats will work as well. It may be a bit mushy but will stay delicious and has a lovely chewy texture.
Do you eat these overnight oats hot or cold?
Unlike a warm oatmeal bowl, this basic overnight oat recipe meant to be eaten cold. It is so delicious when it is cold. However, you can warm it if you like.
Can I make this recipe gluten-free?
Yes, you can. Just make sure to buy a gluten-free rolled oats.
Are oats good for weight loss?
Yes, oats are good for weight loss because they are 100% whole grain and a good source of fibre, making you fill full for a long time.
Do you have to make your overnight oats in a jar?
Of course not. If you don't make oats regularly, don't rush to buy those fancy overnight oatmeal jars. You can make them in a small bowl or any small glass container you have.
What is the best jar for making overnight oats?
These overnight oats will fit in a half-litre jar. Below are some suggestions:
Weck 742 Mold Jar: These are absolutely wonderful, but they are expensive. It is worth it if you make overnight oats regularly.
Ball Mason "PINT" Jars: These jars are good quality, affordable, and look amazing.
More breakfast recipes
Peanut butter pancakes
Oat and honey granola bars
Healthy lemon and blueberry baked oatmeal
Healthy pumpkin pancake recipe
Recipes you may like
Basic Overnight Oats
Basic overnight oats are a healthy breakfast that can be made ahead of time and you can make it with any flavour you like.
Ingredients
½

cup

Rolled oats

½

teaspoon

Vanilla extract

½

cup

Whole milk

¼

cup

Greek yoghurt or vanilla yoghurt

1

tablespoon

honey

Pinch of Salt
Instructions
Combine all the ingredients in a medium-size glass jar or container. Mix well, then cover and put in the fridge for overnight.

In the morning, stir well then add your toppings and enjoy.
Nutrition
Serving:
1
serving
|
Calories:
340
kcal
|
Carbohydrates:
53
g
|
Protein:
15
g
|
Fat:
8
g
|
Saturated Fat:
3
g
|
Cholesterol:
15
mg
|
Sodium:
79
mg
|
Potassium:
322
mg
|
Fiber:
4
g
|
Sugar:
26
g
|
Vitamin A:
230
IU
|
Vitamin C:
1
mg
|
Calcium:
227
mg
|
Iron:
2
mg