Here are the best 5 vitamins and minerals for healthy skin! To obtain the beautiful skin, you are dreaming of; you should start with proper nutrition. Your skin needs nutrients to stay healthy and youthful.
The perfect source of nutrients is fruits and vegetables. Knowing which Vitamin is useful for your skin and how it benefits the skin, will help you understand what you should focus on concerning the skincare. Here are five amazing vitamins which are very useful to your skin.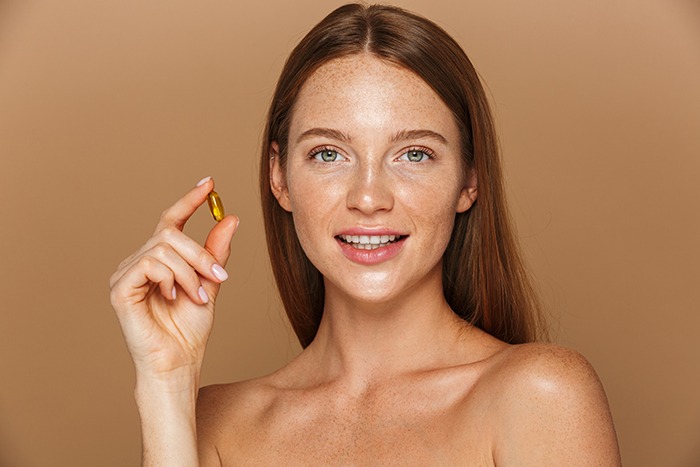 The Best Vitamins And Minerals For Healthy Skin
Vitamin A
Vitamin A is essential for skin health. It supports the repair of healthy skin, and it has an efficient property in treating wrinkles.
You can find planty of Vitamin A in foods like sweet potatoes, oily fish, carrots, eggs, spinach, mangoes and liver.
Vitamin C
Vitamin C is one of the essential ingredients found in so many skincare products, specially antiaging products. That is because its antioxidant properties which fight cancer and support healthy skin.
Also, it provides a normal collagen formation which supports skin strength.
Vitamin C has a vital role in fending off the signs of ageing because of its essential role in contributing to natural collagen. It prevents skin from getting dry.
It also has good results in reducing the appearance of wrinkles.
Lower level intake of vitamin C can cause easy bruising and slower-healing wounds.
You can found Vitamin C in plenty of fruits and vegetables like green leaves and citrus fruit. Green tea is also considered a good source of vitamin C. So make sure it is in your daily diet. An adult needs 1,000 mg per day. If you can't get enough vitamin C in your diet, you can have it as a food supplement. The easiest way:)
Vitamin E
Vitamin E exactly as Vitamin C is an antioxidant; it protects the skin from the UV light, which damages skin and leads to dark spots and wrinkles. Also, it helps in the treatment of skin inflammation as well as it improves the appearance of scars.
You can found Vitamin E in foods rich in edible oils such as nuts, seeds, and so many fruits and vegetables.
Adults normally need about 15 mg of vitamin E daily.
Omega-3 Fatty Acids
Omega-3 Fatty Acids help in fighting wrinkles, keep the skin hydrated and protect your skin from the sun. They are also powerful anti-inflammatories.
Zinc
Zinc is so essential in healing wounds and prevents acne.
You can found Zinc in foods such as meat, shellfish, nuts, egg, dairy products and wheat germ.
The daily intake for women should be 8 mg per day.
Bottom line
To keep your skin looking good, you should first feed it from the inside by giving it all the vitamins it needs.
You can quickly achieve healthy skin if you pay attention to your nutrient intake, and the Vitamin your skin needs to look good. Eating a lot of fruits and vegetables will keep your vitamin levels healthy, which affect your skin positively and make it glow.
Taking five different supplements for healthy skin may be difficult. In that case, a multivitamin that has all the vitamins your skin needs is the solution. You must evaluate your diet before using any of these multivitamins. Or you ask your doctor to make sure these supplements won't affect your health negatively