A rich and healthy chocolate zucchini cake made with freshly shredded zucchini and loaded with chocolate.
For me, chocolate cake is the perfect dessert with a cup of coffee. Look at this chocolate cake and believe me this cake tastes even better than it looks!.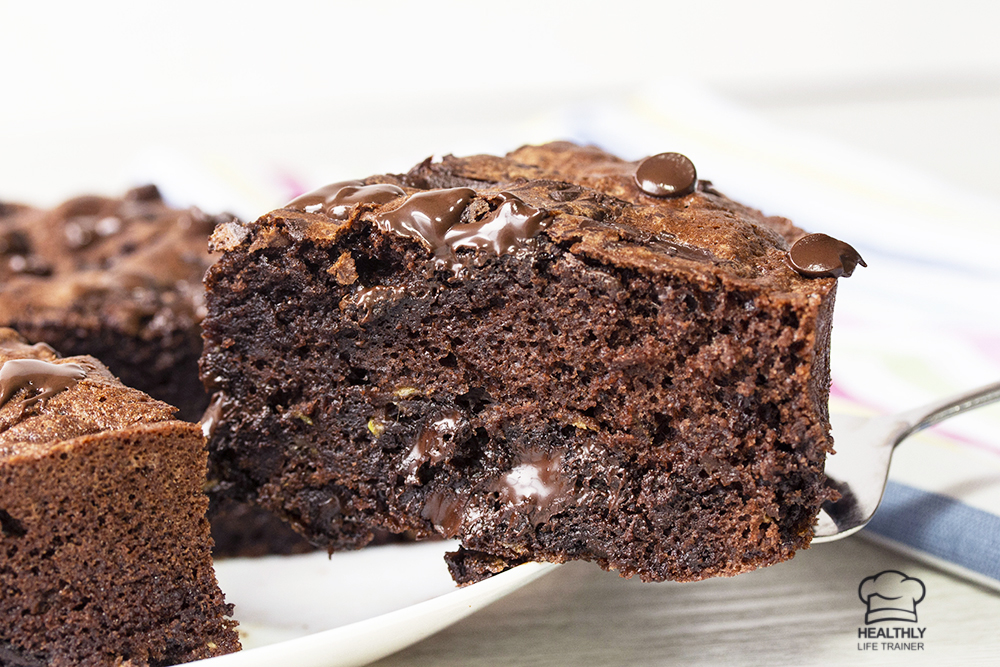 You will also like, Low carb zucchini Brownie Bites.
Healthy Chocolate Zucchini Cake Recipe
In this triple chocolate zucchini cake, I used dark chopped chocolate, unsweetened chocolate chips and unsweetened cocoa powder, such a dense chocolate cake.
If you never tasted a chocolate cake with vegetables before, here is your chance, make this chocolate zucchini cake in which you will not see or taste the zucchini and will enjoy a pleasant chocolaty taste. It's a really delicious must-try cake!.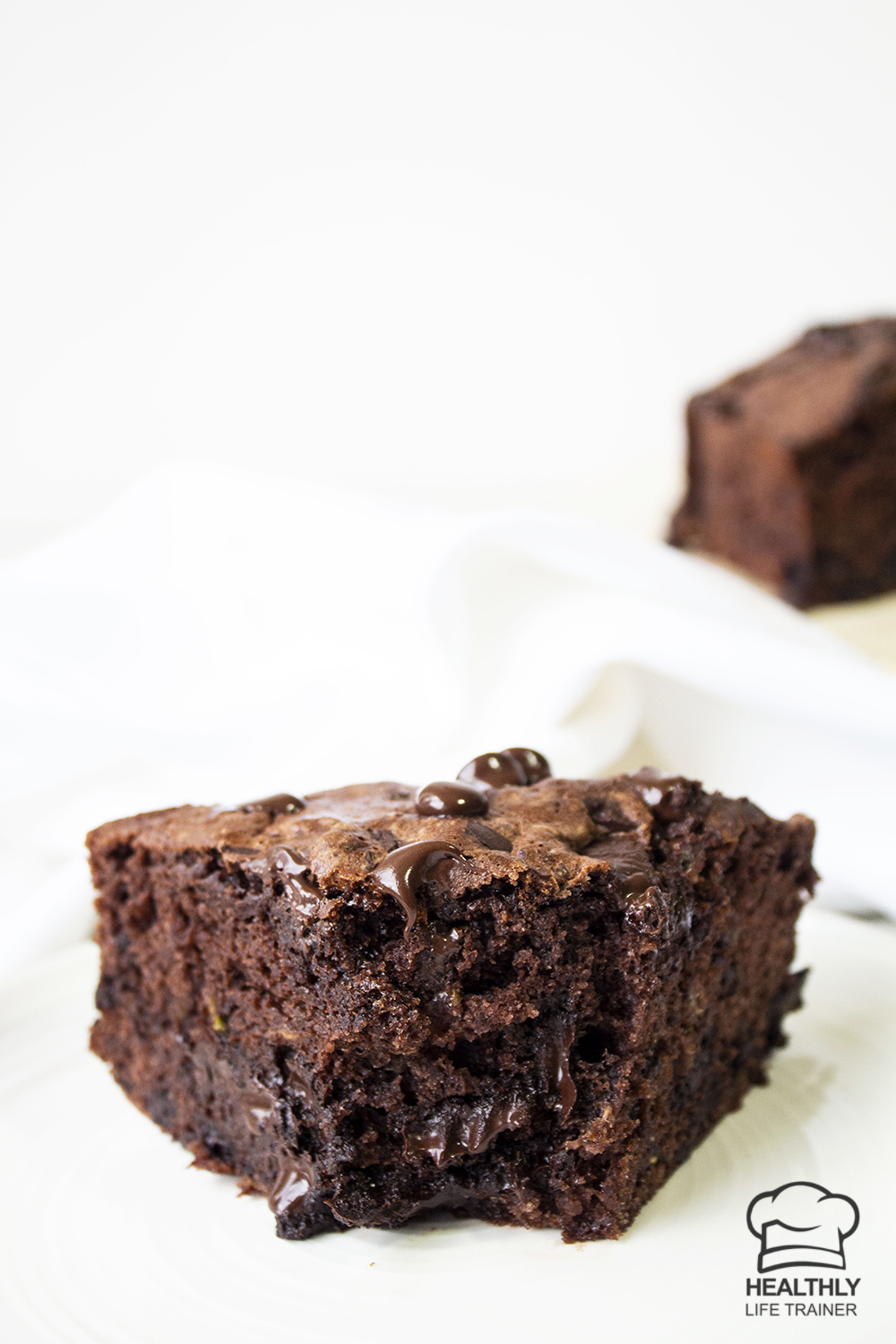 Chocolate Cake Ingredients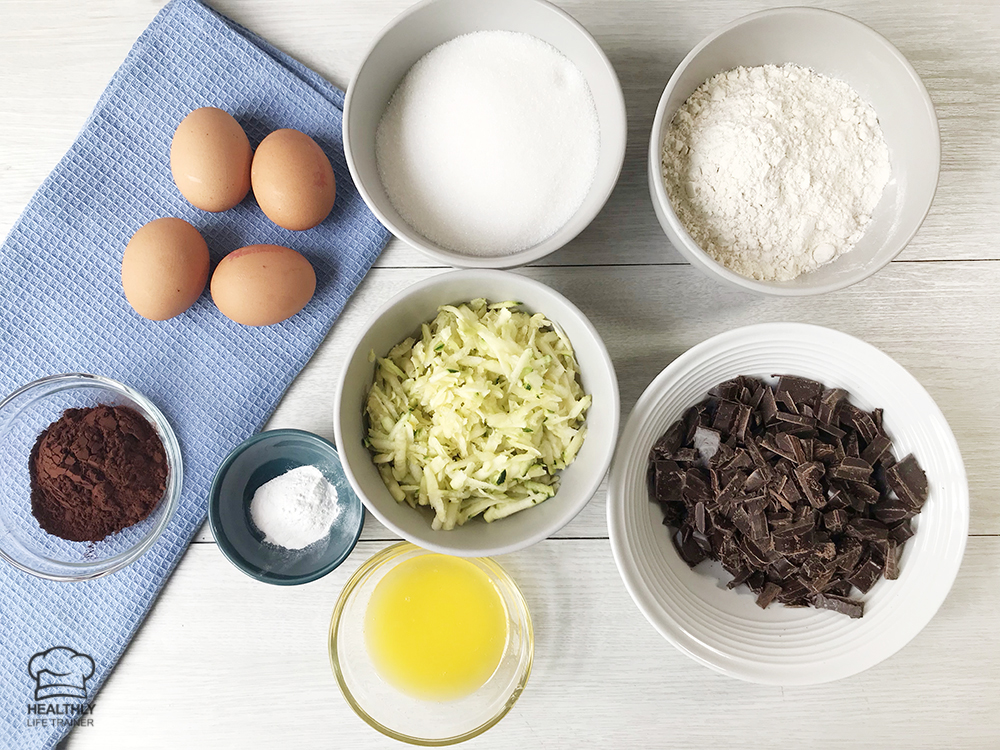 Plain flour
Zucchini, grated
Baking powder
Unsweetened cocoa powder
Eggs, room temperature
Vanilla extract
Unsweetened chocolate, chopped
Vegetable oil
White sugar
Unsweetened chocolate chips (optional)
How To Make This Healthy Chocolate Zucchini Cake
Preparing the oven: Preheat the oven at 170C.
Making the cake: In a bowl, mix the eggs and vanilla extract using the electric hand mixer. Then add the sugar and butter and keep whisking.
After that, add the flour, baking powder and cocoa powder then continue whisking.
Finally, add the grated zucchini and chopped chocolate then mix using a spatula or wooden spoon. A very thick batter will form, don't worry.
Preparing the cake pan: line a 22 cm cake pan with parchment paper and grease the sides with butter. Then pour the batter in the pan.
Baking: Bake the cake for 50- 55 minutes or until a toothpick inserted in the centre of the cake, comes clean.
Garnish: Sprinkle some dark chocolate chips on the top (optional).
Tips and Variations
You don't need to squeeze the liquid from the zucchini as it is useful in making the cake moist.
I like to peel the zucchini before using it in desserts, but that is optional; if you don't peel it, it won't affect the outcome.
Pour the batter into muffin cups to make muffins, or pour it into a bundt pan.
Add some cinnamon powder to the batter.
Replace dark chocolate whit white chocolate.
Add some nuts or dried fruits into the batter
More Cake Recipes
Don't forget to subscribe to the newsletter to recipe all the latest recipes once published! You can also follow Healthy Life Trainer on Facebook, Pinterest, and Instagram!
Recipe Card
Healthy Chocolate Zucchini Cake
A rich and healthy chocolate zucchini cake made with freshly shredded zucchini and loaded with chocolate. Quick and easy yet super delicious.
Instructions
Preheat the oven at 170C.

In a bowl, mix the eggs and vanilla extract using the electric hand mixer. Then add the sugar and oil and keep whisking.

4 eggs,

2 teaspoon vanilla extract,

1 ¼ cups white sugar,

¾ cup vegetable oil

After that, add the flour, baking powder and cocoa powder then continue whisking.

1 ½ cups plain flour,

1 ½ teaspoon baking powder,

3 tablespoon unsweetened cocoa powder

Finally, add the grated zucchini and chopped chocolate then mix using a spatula or wooden spoon. A very thick batter will form, don't worry.

1 ½ cups zucchini,

225 g unsweetened chocolate

line a 22 cm cake pan with parchment paper and grease the sides with butter. Then pour the batter in the pan.

Bake the cake for 50- 55 minutes or until a toothpick inserted in the centre of the cake, comes clean.

Sprinkle some dark chocolate chips on the top (optional).

1 tablespoon unsweetened chocolate chips
Notes
You don't need to squeeze the liquid from the zucchini as it is useful in making the cake moist.

I like to peel the zucchini before using it in desserts, but that is optional; if you don't peel it, it won't affect the outcome.

Pour the batter into muffin cups to make muffins, or pour it into a bundt pan.

Add some cinnamon powder to the batter.

Replace dark chocolate whit white chocolate.

Add some nuts or dried fruits into the batter
Nutrition
Serving:
1
serving
|
Calories:
292
kcal
|
Carbohydrates:
45
g
|
Protein:
6
g
|
Fat:
10
g
|
Saturated Fat:
5
g
|
Cholesterol:
55
mg
|
Sodium:
93
mg
|
Potassium:
256
mg
|
Fiber:
4
g
|
Sugar:
26
g
|
Vitamin A:
695
IU
|
Vitamin C:
4
mg
|
Calcium:
65
mg
|
Iron:
4
mg